13th May 2022
Student Protection Officers
Mrs Alice Lucas - Miss Allison Campbell - Mrs Charlie Barrett
Mrs Sarah Jackman - Mr Tyronne Maher
From The Principal
Dear Families,
Last week I attended the Toowoomba Catholic Schools Leadership Forum. Among the many topics covered was 'Parent Engagement.' Parent engagement includes any activity that involves parents in the learning of their children. The impact of parent engagement on a child's learning is well documented.
Parent 'engagement' is not to be confused with 'involvement.' Involvement is any activity a parent or family member does in a school that is not linked to learning. Helping at the weekend barbeque fundraiser or volunteering as a timekeeper at our athletics carnival are examples of involvement. Parent involvement is necessary and appreciated but does not directly impact the learning of your child.
Examples of parent engagement include:
Asking your child about what they are learning and how they are goi

ng.

Attending parent and teacher meetings.

Coming along to parent information sessions run by educators.

Email communications to check in on the progress of your child.

Attending conferences or seminars about your child's learning.

Working with other professionals (e.g., speech language pathologists) to enhance your child's learning.
The thing often not mentioned when talking about the impact of a parent's level of engagement, is the effect on the child when they see their parent taking an interest in their learning.
Attached to this week's newsletter is a flyer to a free seminar being run on the 18th of June at St Mary's College by the Queensland Parents and Friends Association. Looks like an enjoyable day.
NAPLAN – This week, our Years 3 and 5 students began their NAPLAN Assessments. The assessments run over a course of 9 days starting on the 10th May. During the assessment window, students will participate in 4 short separate assessments in writing, reading, numeracy and language conventions (grammar, punctuation, and spelling). The information that these tests provide compliments a diverse collection of evidence that teachers use to identify student needs. All our students are to be congratulated on their resilient, can-do attitude. Remember, when asking your children about the assessments, ask them what they think they did well, and what they found challenging.
Class in Focus

- Today, students from 2/3A visited the administration block with their iPads. I asked of them what they were learning, and they said that they were:
"

Learning how to identify peripheral devices."


"Wow!" I said.
"They are things that connect to computers," said another. Impressive!

What was almost as impressive as their responses and level of engagement was the way they were using their iPads. They were taking pictures and recording the information using the text-to-speech function on their devices. Well done 2/3A.
'Early Years' Under 8's Morning – save the date! We are looking forward to holding our 'Early Years Under 8's Morning' next Friday the 20th May. All families in our local area with children under the age of 8 are very welcome to attend a morning full of activities and fun. We look forward to seeing you here.
Take care and God bless,
Mr Tyronne Maher
Principal
From The APRE
It's raining.
Again.
For the…
I've almost lost track of how many days in a row.
Up on our top oval, there is now a lake or a temporary swimming pool.
But despite the complaining and moments of dread when we look out the window and realise it's raining again, the rain is a gift from God. Rain is often described as a blessing but try telling that to our preps who desperately want to run free in the sunshine!
Let's look at Psalm 147:7-8.
It says,
"Sing to the Lord with thanksgiving; Sing praises on the harp to our God, Who covers the heavens with clouds, Who prepares rain for the earth, Who makes grass to grow on the mountains."
Today's rains are preparing tomorrow's flowers.
Let's challenge ourselves to find something positive to say about all this wet weather and praise God that after the rain, we can enjoy the sunshine!
Thank God for the rain!
CLASS IN FOCUS I met with our class in focus – 2/3A to reflect on what they think of when they hear that rain is a blessing from God. Here's some of their responses.
Ella: I like the rain – when it drops on my head it makes me smile.
Ivy: The rain gives us water incase people are running out.
Ellie: When I wake up and hear the rain on the roof I'm both happy and sad. I'll need an umbrella so I can help mum, keep her bag dry.
Gabriella: I love the puddles!
Leo: I love going to bed when it's raining as it helps me go to sleep.
God bless,
Mrs Alice Lucas
APRE
Staying Safe At School
NCCD Information Sheet for Parents
Class Awards
From Prep
Please enjoy photos from our Mother's Day pamper morning. Thank you to all of the wonderful people who were able to come and celebrate with their Preppie.
Ms Jesse Curtis and Ms Mandy Johnson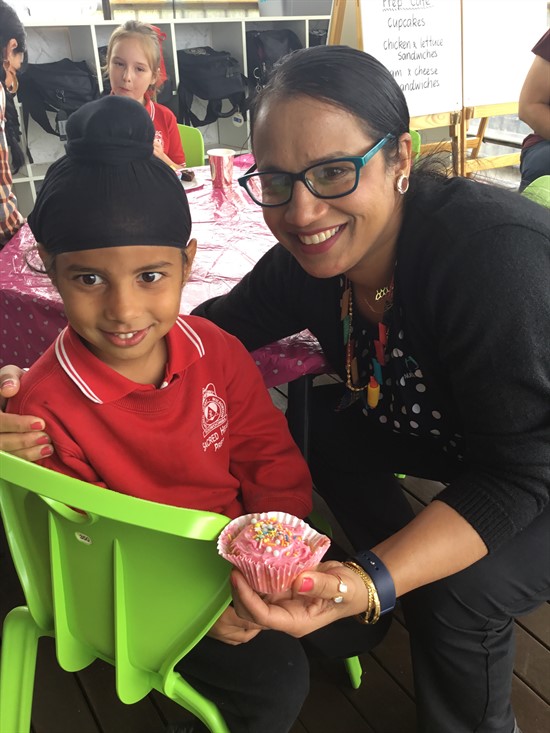 Prev
Showing images
1 - 8
of 27
Next
From Year 1J
Year One Firefighter Visit
On Tuesday 10th

May, we had a visit from our local firefighters who taught the Year Ones about fire safety. The children were informed of the important steps to follow if they ever encounter a fire:
The firefighters gave the students Homework to ask their parents what their address is (street number, street name and suburb). Please practise this with your child/ren in case of an emergency.
'Don't hide, go outside' and 'Get down low and go, go, go!'
The children were told that when they hear a smoke alarm, smell smoke, or see a fire that they should call for help and quickly crawl to the nearest safe exit and to never ever hide in the building. If they are stuck, to make as much noise as possible so the firefighters can find them and take them to safety.
The firefighters explained to the students that the air is cooler and cleaner low to the ground, which is why we get down low and crawl to safety. It's a good idea to practise your fire escape plan with young children, making sure you all get down low and crawl to the nearest exit. Once the children are outside, they were asked to go to the letter box (or a meeting point arranged by parents) and once they are out, they need to stay out.
The children were told to stop and drop to the ground, to lay flat with legs out straight and to cover their eyes and mouth with their hands and roll over, back and forth until the flames are out.
For the next visit, the students will have the opportunity to explore the fire truck and possibly get a chance to use the powerful fire hose which they are looking forward to.
Mrs Hannah Jesshope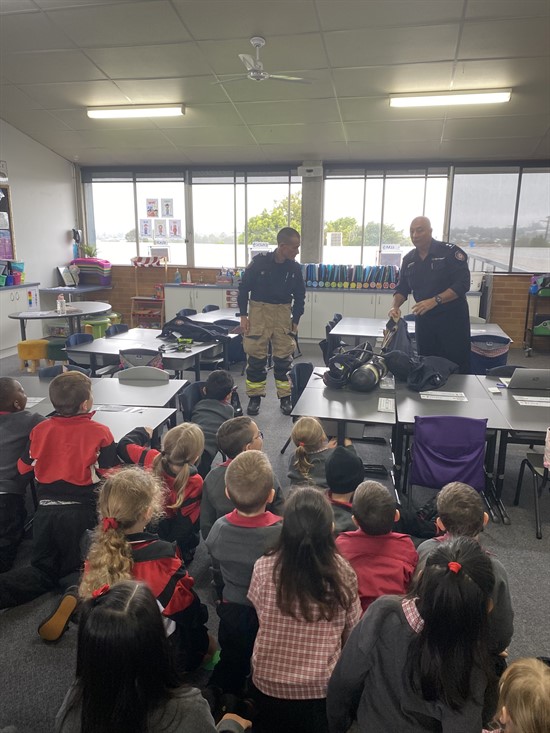 From Year 1/2T
Mr Rob Warrender, Willow's dad was our special guest who presented an excellent speech on the importance of remembering those who paid the ultimate sacrifice for our country.
Mr Warrender talked to the students about the time he was in the Army in New Zealand and went to a place in East Timor. He told the students that East Timor is a strong Catholic country and he shared photos of some of the monuments he saw while he was in working East Timor.
a huge statue of Jesus in East Timor that stands 27 Metres high which is situated at the top of a very big hill

statue of the late Pope John Paul II

at the top of the highest mountain of East Timor stands the statue of the Virgin Mary
We also saw photos of men building a Church by hand and photos of the East Timor people going to church on Good Friday.
Mr Warrender spoke about the time they built a new playground for the school because the students in East Timor did not have a playground.
At the end of Mr Warrender's presentation, he showed us his own medals and Willow's Grandfather's medals from when he served in World War 2.
Thank you to Mr Warrender for speaking to us about the importance of this very special day in our country's history.
Happy Birthday to Mrs Kuss!
Mrs Angela Tevelein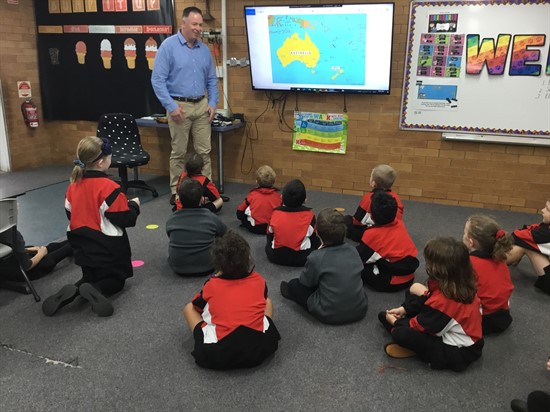 Prev
Showing images
1 - 8
of 15
Next
From Year 2/3A
Welcome to Week 4.
What crazy weather are we having now?
This term has certainly been a little different to other terms with short weeks and loads of rain. The children are wanting to burn off so much energy but are restricted. Hopefully the sun will shine through before too much longer.
In class, homework has started again and is due in by Friday. We are currently testing reading levels so expect your child to have different levelled home readers, in the near future.
We have been learning to add by regrouping. We have continued learning sounds and spelling rules to help us in our writing. In Religion we have been looking at our Parish and what is inside the Church in particular the symbols. In Visual Arts we have created a beautiful Mother's Day card along with our abstract cat.
This week the Year 3 students participated in NAPLAN testing. They have completed the 'Reading' and 'Writing' test. We are so proud of them and the way in which they conducted themselves on the day. They worked to the best of their ability with a positive mindset. They truly were amazing. Testing will continue next week with 'Conventions of Language' and 'Numeracy' still to go.
Please ensure your child brings to school their iPad fully charged as this is needed for these tests.
Continue to have a great week.
God bless.
Mrs Jacque Armstrong and Mrs Jodie Manley
From Year 3/4G
This has been a challenging week for all the students at Sacred Heart. The constant rain has meant they haven't been able to run off some of their abundant energy during break times and even moving around the school means extra care as everything is wet. Having said that our class should be applauded for coping with this so well and making good choices all week.
The biggest item (after the rain) is of course NAPLAN for our Year 3s. They returned after their writing test all smiles and telling me about all the things they remembered to use in their story such as capitals. These often go missing in class. Keep up the positive attitude for the rest of the NAPLAN tests.
We have been enjoying having a normal full week this week after all the short ones making it much easier to do things such as learn this week's spelling at a normal pace.
Next term, our Year 4s and 5s will be going on a 2-night camp to Camp Cooby. A letter will be sent out, to formally advise parents of the camp details. We are finalising the costs and will let you know as soon as we know the final cost of the camp. You can save the dates for the 7th to the 9th September. Check out their website for a sneak peek: School camps - Camp Cooby!
Have a great week.
Mrs Rhonda Gath and Mrs Jodie Manley
From Year 4C
What a crazy, wet week we have had this week!
Just a reminder to name all jackets, jumpers and items of clothing in this cooler weather please.
Over the past two weeks, we have been exploring persuasive techniques used on breakfast cereal packaging! We are excited about making our own breakfast cereal packaging using all of our newly learnt techniques.

Next term, our Year 4s and 5s will be going on a 2-night camp to Camp Cooby. A letter will be sent out, to formally advise parents of the camp details. We are finalising the costs and will let you know as soon as we know the final cost of the camp. You can save the dates for the 7th to the 9th September. Check out their website for a sneak peek: School camps - Camp Cooby!
Miss Allison Campbell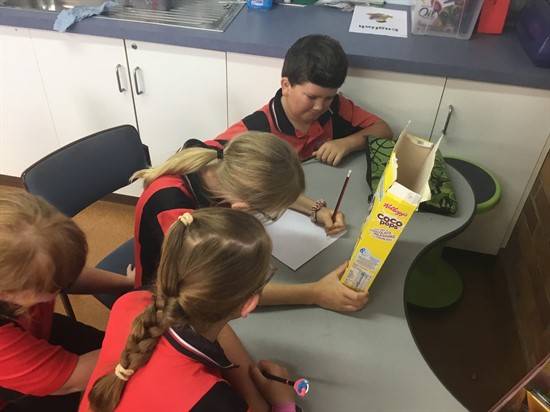 From Year 5L
Raining Days
In Year 5 there's mixed feelings about all this rain! Some are loving the inside time and seeing the rain hit the window as they sit at their desk instead of when we needed to shut the blinds to stop the glare of the sun from hitting them in the eyes. Others are longing for the freedom of running around the oval. I suppose it's a chance for them to make the most of whatever weather comes their way and to be grateful that we all have a roof over our heads, nice warm clothes and the ability to dry off!
English
In English, we've been learning about persuasive writing; sizzling starts, high modality language and the impact of the order in which they place their 2 -3 arguments. Students have been tasked with writing a letter to Mr Maher about making one change to make our school better. Ideas are ranging from investing in a pet monkey, banning uniforms, right through to bringing in Free Time Friday across the school. This week, they've been planning out TEEL paragraphs for their arguments. Please ask your child to show you their progress – it's all on their OneNote on their iPads.
Maths
In Maths, we've been exploring area and perimeter. Students were asked to calculate the area and perimeter of rectangles. Year 5 is an important year for gaining the basic concepts that students will apply and adapt in Year 6 and then into secondary school!
Camp
Next term, our Year 4s and 5s will be going on a 2-night camp to Camp Cooby. A letter will be sent out, to formally advise parents of the camp details. We are finalising the costs and will let you know as soon as we know the final cost of the camp. You can save the dates for the 7th to the 9th September. Check out their website for a sneak peek: School camps - Camp Cooby!
Mrs Alice Lucas and Mr Paul Toohey
From Year 6B
It's almost the middle of Term 2 and the seniors have been focused on their learning in all curriculum areas. We are preparing our Year 6 students for high school with several of their assessment pieces and assignments having criteria sheets to address.
Here are a few quotes from our seniors when asked what they are thinking of Year 6 at this time of the year:
Emme: "I am enjoying the opportunities to do anything senior related, as it is my last year of primary school and the last time I will do certain things here at school!"
Hurley: "I feel that I have learned a lot about leadership this year and I really enjoy the lessons that we've had because I find our topics interesting. The most interesting area so far for me is HASS. I love learning about history and Federation."
Jaxan: "I love visual arts – I am very interested in drawing and I am looking forward to creating my storyboard and then making the characters!"
Siffat: "Mathematics has been really enjoyable for me! Subtraction, addition and the percentages are my favourite areas!"
Mackenzie: "English has us taking notes whilst watching 2 movies that we are going to critique and I think this is a fun way to learn."
Indyiah: "I enjoyed cooking the biscuits for our mums for Mother's Day."
The next fortnight will be a busy one in Year 6 – enjoy!
Mrs Charlie Barrett & Mrs Mallory Anderson
The Arts
CHOIR
Students will be performing at the Toowoomba Eisteddfod on Sunday 15th May at the 1.30 pm session.
Thank you, parents, for your support in this opportunity for our Sacred Heart students.
If you would like to attend the performance, please purchase tickets at the Empire Theatre Box Office.
Sacred Heart Idol

FORMS DUE: Tuesday 17 May
Please get your online forms in asap so we can make sure that we have a spot available for your auditions.
Please note:
You will need to enter a form for each performance if you are auditioning for different sections.
Only one form is needed for each group item.
Work in Class:
2/3A and 1/2T
Students are currently working on creating a Photo story. Students have been asked to take pictures using 2 toys from home so then we can use class time to use the photos to create their photo story in Book Creator. Could you please help or remind your child with this activity.
5L and 6B
We are currently working on creating a small episode about a favourite song of your family and why it is important to you. Please be aware that students may need some help in deciding which song is important. It could be a favourite nursery rhyme that you sang together when they were little, a song that you always sing or listen to on a round trip, a song that their grandparents sang, and it has been passed down the family. Students will then need to interview a family member about this song and then edit it into an episode.
Tuckshop
Tuckshop has recommenced and is available every Tuesday and Friday.
Please order through Flexischools before 9.00am on the tuckshop days.
MAY SPECIAL: Beef nachos (gluten free available)
Mrs Kym Norman
Tuckshop Convenor
Prep 2023 Interviews
Our Prep 2023 interviews will be commencing on Friday 3rd June. We are begun scheduling these.
If you have a child or know of a family with a child who turns 5 years before the 30th June 2023, they are eligible to start Prep in 2023. Applications are still been accepted for Prep 2023.
We are also taking applications for 2023 in other year levels.
Please apply via the link below.
Parent Portal
The Sentral Parent Portal is now available at Sacred Heart Primary School. This is very useful for reporting your child's absence, viewing academic reports, and setting up parent-teacher interviews.
All families should have received an email with their unique family or student access key. For students with shared households, separate access keys have been provided.

How to register
Create an account with your details, an email address and your own password

Enter the Family Access Key or Student Key emailed to you (it is case sensitive so copy exactly as it appears)

Download the app and login for easy access to notify the school of your child's absence
For more information click on the following links.
Need help with the Sentral Parent Portal?
Read the Sentral for Parents App User Guide
As we progress this initiative, we are sure the Parent Portal will become more and more significant in your day-to-day management of your child's enrolment at our school. Should you experience difficulties please do not hesitate to contact the office for assistance.
Did you know you can submit student absences through the Sentral Parent Portal App? It's as easy as 1, 2, 3
Step 1: Open the Sentral Parent Portal App and click on the "Absences" icon
Step 2: Click on the + to add a new absence request (this needs to be completed for each student)
Step 3: Complete the details and hit "Submit"
Highlights from the Sacred Heart P & F Meeting
The P&F met on Monday 9th May for an Ordinary Meeting. Participants attended in person and online.
The following are some of the highlights:
The President reported that there were 16 volunteers to help with the bake stall at the cross-country which is a fantastic response and very much appreciated.

The postponed Welcome Night is now to be held on 9 June combined with a school disco. There will be a callout for volunteers to assist with this in coming days.

The tuckshop is up and running and parents are getting back into the swing as orders are increasing each week. The tuckshop is a service run by the P&F to assist parents. It aims to cover costs only.

The Mother's Day stall is another service of the P&F, and it was run successfully by new volunteers last week. A few learnings came out of that, and they will be implemented for the Father's Day stall in September.

As the school is the site of a polling booth in the upcoming election (21 May) there will be a sausage sizzle provided. A link seeking volunteers has already been sent out but if you missed it and can help just let the office know.

The P&F is making good progress in documenting all event procedures to make it easier for future volunteers. Great work is also being done to get all documents in digital form and stored on OneDrive for universal access.

The next P&F meeting will be on Monday 6th June. All parents and carers are welcome to attend.


Lost - Grey Jumper
Could you please check your child's clothing as we are currently missing a size 6 grey jumper. It is named and the child is in Year 1J. Your child may have accidently taken this jumper home.
Uniform Shop
Thank you for your continued support of the school's uniform shop.
PLEASE BE AWARE THAT ONLY TWO FAMILIES CAN BE IN THE UNIFORM SHOP AT ONE TIME.
Normal Uniform Shop hours:


Mondays & Thursdays 8.00am - 10:30am

.


If Monday is a holiday, the Uniform Shop will open on a Tuesday.
SCHOOL BAGS: School Bags are COMPULSORY to the whole school. Do you have the correct bag?These are available from the Uniform Shop for $39.50 (with emblem).
SCHOOL PULLOVERS - This is a compulsory uniform item for Years 1 to 6.
SPRAY JACKETS are compulsory for students in Years 1-6 only . NOT PREP STUDENTS!
FREE BUTTONS available for Boys' red shirt, girls' red and white blouse & Prep red polo.
The uniform shop carries donated pre-loved items (including items for Prep).
Thank you for all the donations to the uniform shop these are greatly appreciated. Please continue to support the uniform shop with donations. These can be left at the office.
*We accept Cash, EFTPOS or Layby* Please note: this is at the Uniform Shop ONLY
Betty Davison
CONVENOR
Sacred Heart Parish