Term 4 - Week 6 (10th November 2023)
Student Protection Contacts
Mrs Alice Lucas Miss Allison Campbell Mrs Charlie Barrett
Mrs Sarah Jackman Mr Tyronne Maher
From The Principal
Success Breeds Success - At Sacred Heart, we talk about what good learners do. We do this so that our children know what their role in the learning is and what to aim for. One attribute we strive for in realising our vision of 'lifelong learners', is a student who knows what they are learning and what their 'next steps' are.
When children can talk about this, it means that they have been successful at reaching one goal, and are keen to reach another – success breeds success. It also means that they have been given valuable feedback on how they can improve.
On Wednesday, I saw a wonderful example of this. I spoke to a child about his goal in handwriting. There was the goal that the teacher had set with him on 'using the blue and red lines', but before I could start to talk about this with him, he jumped in enthusiastically and explained that he needed to get better at his 'lower case e's, u's and y's. He was focused on the overarching goal, the learning intention, but knew that to achieve this, he needed to achieve some smaller goals, or success criteria, along the way. He was also letting me know, in his own way, that he would be needing some feedback on this the next time we meet.
This learner had been very well supported by his teacher and family. I look forward to catching up with him next week to celebrate his progress.
New Staff to our School – This week and next year, we welcome some new members to our Sacred Heart community.
Beginning next week, Mrs Julie Willett will take up the position of 'School Officer – Administration'. Julie will work alongside Mrs Debbie Menkins in the office. Julie has decades of experience working with Toowoomba Catholic Schools. She is no stranger to our school, having already worked 20 years at Sacred Heart Primary School. Julie has spent several years working in the Toowoomba Catholic Schools Office. Julie is currently working in student services at Saint Saviour's College. We look forward to having her join our team.
Next year we welcome two new teachers to our school. Miss Meghan Curtin and Miss Sarah Reed.
Meghan is currently teaching at St Joseph's in Chinchilla and will be taking our year 2/3 class next year. She has been teaching in Toowoomba Catholic schools since 2019, working at St Maria Goretti, Inglewood, St Thomas Moore's Toowoomba and St Joseph's Chinchilla. Meghan has a Bachelor of Education (Primary) and a Graduate Certificate in Religious Education. Miss Curtin is looking forward to creating a learning environment where all learners feel courageous to achieve their goals.
Miss Sarah Reed is a graduate teacher who our year 4 students will recall was here on her final practical learning placement in term 3 of this year. Sarah has had a wealth of experience in working with children in different settings. She has worked with children throughout the last ten years at before and after school care, as the children's administrator at her local church and most recently, working at a campsite to provide camp experiences for schools and community groups. Miss Reed creates a positive, safe and inclusive learning environment where students feel supported to challenge themselves and grow daily.
2024 Classes - We have recently finalised our classes for 2024. The following list includes our teachers and the location of their classrooms. A more detailed list of our entire staff will be released before the year's end.
Prep N –Mrs Melissa Nelson – Class location: Prep building, left door entrance.

Prep C – Ms Jesse Curtis - Class location: Prep building, right door entrance.

Yr 1T – Mrs Angela Tevelein - Class location: level 2 of administration block (eastern end).

Yr 1R – Miss Sarah Reed - Class location: level 2 of administration (next to 2J).

Yr 2J – Mrs Hannah Jesshope – Class location: level 2 of administration block (western end).

Yr 2/3C –Miss Meghan Curtain - Class location: first floor C Block.

Yr 3C – Ms Allison Campbell - Class location: second floor C Block.

Yr 4M – Mrs Jodie Manley – Class location: second floor C Block.

Yr 5R – Miss Maddy Robinson - Class location: second floor C Block.

Yr 6B – Mrs Charlie Barrett and Mrs Jacque Armstrong (Thursday and Friday) - Class location: eastern end of B Block (next to the library).
New Parent Engagement Network Team – On Monday night, we thanked our working party leaders and our outgoing President, Zoe Strugnell, and Secretary, Scott Alston. A new President and Secretary were voted in to begin in 2024. We congratulate Bernie Laherty on being elected the President and Amber Broughton being elected to the Secretary position of our group.
Zoe presented her report to this group, a copy of which can be found in this week's newsletter. Zoe's report outlines the successes of the year and expresses her thanks to various people in their roles this year. On behalf of our whole school community, I thank Zoe and Scott for their energy and enthusiasm in serving the students and the parent group in 2023. Special mention and thanks goes to Scott for his three years on the Parent Engagement Team. We look forward to continuing to work with Zoe and Scott, Amber and Bernie, and all of our working party leaders, again into 2024.
God bless,
Mr Tyronne Maher
From The APRE
St Vincent DePaul Christmas Appeal
During Monday's Assembly we launched our Compassion focus for Term 4! We are supporting the Vinnies Christmas Appeal. We are asking for donations of non-perishable Christmas food items to make hampers for Toowoomba families in need this Christmas. On Monday, we welcomed Julie Inskip from St Vincent de Paul, to share how much our donations mean to the community. Julie spoke of the overwhelming gratitude that is expressed when she has been able to deliver the Vinnies Hampers to families in need and how the families love to hear that the donations have been kindly donated by such caring Toowoomba families. Imagine the difference we can make to so many families in need if we each bring in just one non-perishable item! Please see below for more information about the types of donations we are after. Children can bring in their donations to their classrooms where there will be a basket that each class will aim to fill!
Vinnies Christmas Appeal ideas for donations:
1L drink (e.g. cordial), baked beans, biscuits (not small), cans of fruit, cereal, chips, Christmas cake, coffee, custard, fruit containers, gravy powder tin, jelly containers, Christmas lollies, long-life milk, pasta sauce, plum puddings, spaghetti, tea, tinned vegetables, cans of tuna, soap, toothbrushes, toothpaste, deodorant.
Sacred Heart Parish 2024 Sacramental Program
The Parish Sacramental Program for 2024 will commence in February. The Parish is seeking expressions of interest from families of children from year 3-6 in 2024 (8years or older). This program is for baptised Catholic children and will support students and their families to prepare for the sacraments of Confirmation, Reconciliation and First Communion. If you are interested or have any questions, please do not hesitate to speak with me or the Sacramental Team- Fiona Webb and Emilie Yap.
Shoeboxes of Love
This year the Christmas Concert is centred around helping and giving to others during the Christmas period. A special part of the message will be creating "Shoeboxes of Love" filled with gifts from each class for young people in the Toowoomba community.  
Each box will be packed full of quality toys, school supplies, and personal care items which become a tangible expression of God's immense love for the child. Boxes will be presented to a Vinnies representative at the end of the Christmas Concert along with any hampers the school has collected.  
Each class has been given a gender and age for a child. Please discuss this with your child/ren and if possible bring something in to place in these boxes of love. If you have any queries, please do not hesitate to contact the school.
Congratulations to our Gotch Winners from the last two weeks. Keep striving to walk with Jesus everyday!
Mrs Katie Horne
Prayer of the Week
From the Learning Support Teacher
Screen time and child development
Research has shown that delays in executive functioning, language and thinking skills can be associated with screen time. A theory as to why screen time is associated with delayed language and cognitive development is that it takes away from the time that children would usually spend doing things that benefit development, such as playing with toys, interacting with parents and peers and sleeping.
Below are some guidelines around the recommended amount of screen time which may be useful for you and your family.
Children younger than 18 months - Avoid using screen media other than video-chatting with family.
This is a time that children develop their language through interacting with their parents and family.
Even before a child speaks, through gurgling and responses from others they learn turn taking, responding, voice tone, and are developing vocabulary. Children are learning words and meanings long before they can say them.
Children 2-5 yrs – 1 hour per day of high-quality programs
Make sure you are an active participant with your child, even if you have to pause the video.
Make comments and ask inferential questions such as 'Why do you think the rabbit ran away?' Just as you would do if you are reading a story together.
Children 6 years and older – Place consistent limits on the time spent using media.
Make sure media does not take the place of adequate sleep, physical activity and other behaviours essential to health.
Establishing a routine lets children know what the expectation is and leaves less wiggle room for children to try to negotiate more screen time.
Time is an abstract concept and may be difficult for some children to understand. Using a daily visual schedule, phone or egg timer and verbal reminders – eg you have 5 minutes left on your tablet, make screen time a more concrete concept for children and will let them know what to expect.
Designate media-free times together – simple day-to-day tasks leave so many opportunities for language learning.
Mealtimes are great for practising new vocabulary and conversational skills.
Organise fun media free times, such as a games night, arts and craft time or story time.
Play language games in the car such as sound or colour eye spy, 20 Questions and many more.
Mrs Genny McNair
From The Middle Leader/Curriculum Co-ordinator
HASS: Humanities and Social Sciences –
One of the key learning areas of our curriculum for Prep to Year 6 is Humanities and Social Sciences. Our dedicated teachers at Sacred Heart have been working diligently to prepare an engaging and comprehensive program that aligns with the updated standards (ACARA – Australian Curriculum Version 9). Here's a glimpse of what your children can expect:
In the Prep and Year 1 classes, students will be introduced to the HASS curriculum through interactive and age-appropriate activities. They will explore topics such as families, communities, and celebrations, fostering a sense of belonging and cultural awareness. Through storytelling, crafts, and group discussions, our youngest learners will develop a foundation for understanding their place in society.
For our Year 2 and 3 students, this HASS curriculum will delve deeper into exploring different environments and geographical concepts. Students will engage in hands-on projects, such as creating maps and models, to learn about natural and built features in their local community. They will also discover the significance of historical events and figures, encouraging them to reflect on the past and how it shapes the present.
As our students progress to Year 4, 5, and 6, they will embark on a fascinating journey through Australian history, civics, and economics. They will study significant events, such as Federation and the Gold Rush, while gaining insights into the democratic processes that govern our nation. Students will have opportunities to engage in debates, research projects, and community service initiatives, empowering them to become active and informed citizens.
By fostering curiosity, critical thinking, and empathy, we aim to nurture well-rounded individuals who understand the importance of their place in society and the world. We encourage you to support your child's learning journey by discussing HASS topics at home and engaging in relevant activities or outings.
If you have any questions or would like further information, please do not hesitate to reach out to your child's teacher.
Mrs Charlie Barrett

From the Guidance Counsellor
The Importance of an Audiologist
Hearing Health History is a vital part of gaining insight into the ways in which a student can access the auditory world around them. Sometimes, children may have a history of ongoing ear infections in their early years. However, by the time the child attends school, these ear infections may no longer occur. Sometimes we are not aware that a history of ear infections and associated conditions may have a connection to a child's hearing health in the school years. As a parent, you may be the first person to notice if your child has trouble picking up on sounds. Even a mild hearing loss can mean that a child is missing up to 25% of what is being said. For this reason, Guidance counsellors often recommend that parents have their child's hearing and vision assessed. This is because a child's social-emotional wellbeing, learning and behaviour can all be affected by medical or other health conditions that we may not be aware of. There are different types of Hearing assessments and screening measures available, and this can sometimes be confusing.
If you have concerns about your child's hearing health, it is recommended to get a full audiological assessment completed by an 'Audiologist'. Audiologists are experts in all aspects relating to hearing health. They work independently and can also refer patients to an Ear Nose and Throat (ENT) specialist or provide diagnostic testing for ENT's. An audiological assessment involves several assessments which include examining the health of the outer ear (Otoscopy), the middle ear (Tympanometry) and measuring the range and sensitivity of a person's sense of hearing and speech discrimination testing (ability to detect sound and speech in the presence of background noise). If your child is having any speech or language difficulties, it is also strongly recommended that children obtain an assessment by an Audiologist prior to having a speech and language pathology assessment. If you have any concerns about your child's learning or hearing, please contact the school.
Mrs Sarah Jackman
Class In Focus
Prep C & Prep N
Wow! It is hard to believe that we are nearing the end of the school year. It has been amazing to watch the growth of all the Preppies over the year.
There has been much happening this term. A highlight has been our trip to the Empire Theatre to watch Pevan and Sarah live in concert. Pevan and Sarah are much loved entertainers by our Preps and their learning videos are a part of our class every day. The children loved experiencing the theatre and live entertainment. They were able to sing along with all the tunes they know so well, and Ms. Curtis and Tristan even got to join Sarah on stage.
We also had a great week of swimming lessons. Over the course of the week the students gained much confidence in the water. There were great smiles as they achieved things that they thought impossible at the beginning of the week, whether that be putting their head under water, swimming across the pool or diving under water through a hoop.
In English we have explored many different stories. We have used these texts to learn about character, Aboriginal and Torres Strait Islander cultures, imagery and how we use what we know to help us understand the books we read. Some of the favourites were 'Koala Lou' and 'Going to the Footy'. We have continued to practise our reading and sentence writing. These new learnt skills came in very handy when the students wanted to write letters to Pevan and Sarah, that we posted to them at the show.
In Maths we have learnt to order the days of the week and explored different activities the students do on each day. We have been looking at activities that take long and short periods of time and the different times of the day. We have also learnt about data. The students came up with their own question which they asked their peers and collected the data. They then used this data to create a graph of the information.
In Religion we have explored more stories from the bible. We learnt the story of Joseph and his dream coat and the story of Baby Moses. These stories help us to learn that God is always there for us, he loves us and we can trust in him. We are about to begin learning the Nativity Story. We are looking forward to sharing this story with our families on Wednesday of Week 8.
In other learning we have explored the features of plants. We learnt to sort plants by their observable features. We then looked at places. We learnt what a place is and what are the different purposes and features of places. We have also learnt about what makes a place special and the students have shared a place that is special to them.
Ms Jesse Curtis and Mrs Melissa Nelson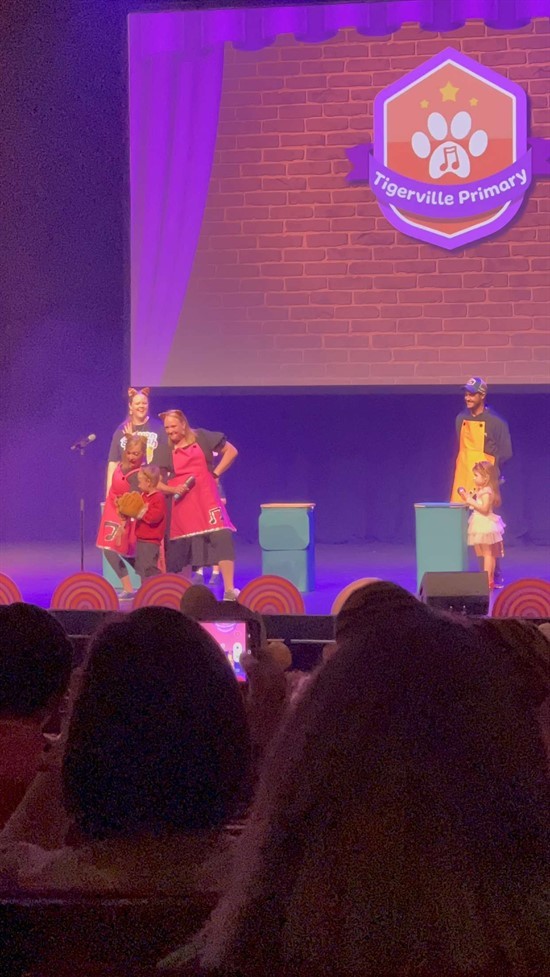 Prev
Showing images
1 - 8
of 35
Next
1J
Over the last couple of weeks, 1J have been working hard to fit as much schoolwork in as possible with the disruptions that come with end of year. It is crazy to think we have three weeks to go before Christmas holidays!
During Week 4, the children enjoyed travelling to Glennie on the bus and jumping in the pool to learn some of the fundamental skills of swimming. It was great to see the improvement from the start to the end of the week.
Next week, the children will write a letter to Santa asking for what they would like for Christmas. I look forward to reading their persuasive letters.
Health, Design and Digital Technologies have been incorporated with Lego Serious Play this term as students design, create, and record Lego models in response to my questioning. These 3D models serve as a basis for group discussion, knowledge sharing, problem solving and decision making. It has been a rewarding process to sit back and watch children, who at the start of the year would cry to get their own way, and now, use a strategy such a 'Paper, Scissors, Rock' when they a confronted with a challenge with a peer e.g., grabbing a piece of Lego at the same time.
For the final newsletter for 2023, I have included pictures of the fun-loving children I have had the pleasure of teaching this year. I have thoroughly enjoyed watching them learn and grow and I wish them every success for their bright futures!
Wishing you a Merry Christmas and a Happy New Year. I look forward to seeing you back at Sacred Heart in 2024.
Mrs Hannah Jesshope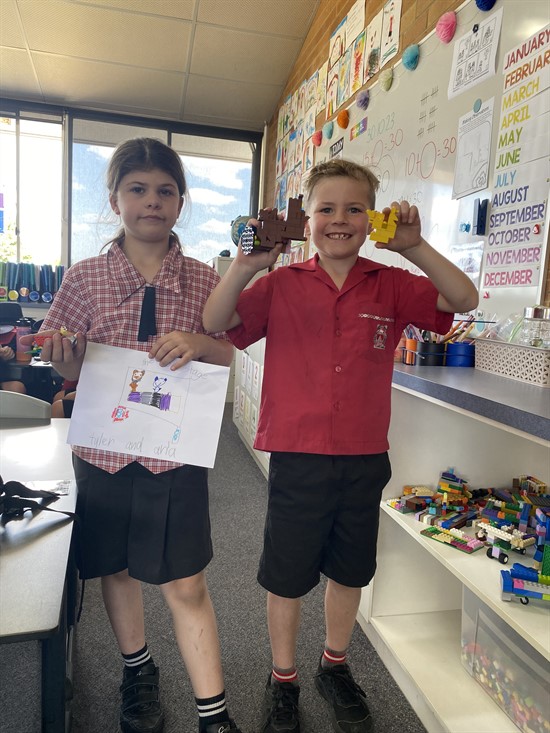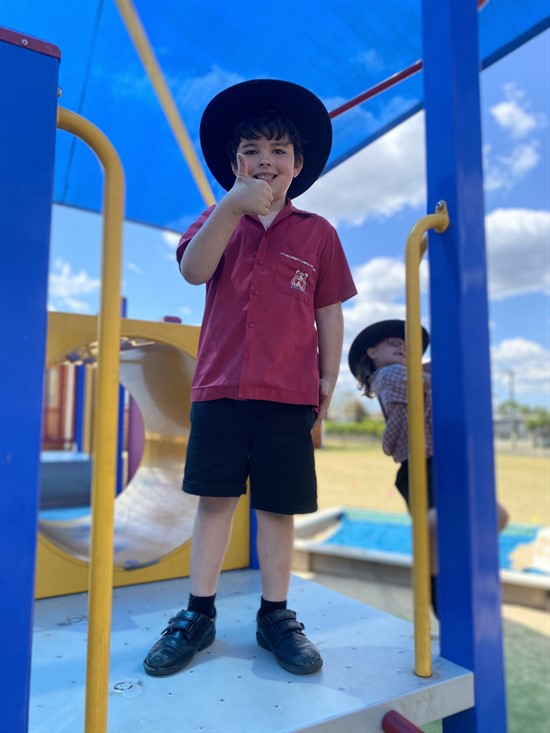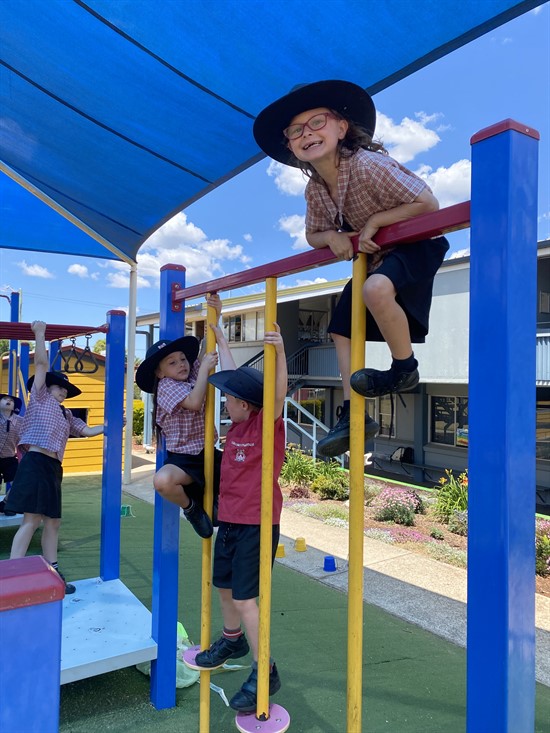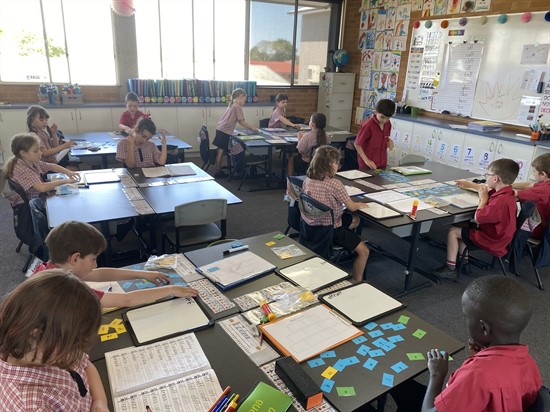 Prev
Showing images
1 - 8
of 49
Next
4 G
With Term Four now at the half away point, it is a busy time for our learners in Year Four. The children are currently completing their culminating assessment piece for our English Unit, Examining Persuasion in Product Packaging. Students have been learning about the impact of persuasive techniques on target audiences, in addition to analysing the visual elements used in product design. It has been lovely to see their enthusiasm for the task, in addition to the creativity, problem solving and critical thinking skills they have been demonstrating.
This term has also seen our students participate in the Whole School Speech Competition. To accommodate for this and to strengthen our knowledge of 18th Century Britain and the industrial revolution, Year Four wrote a narrative taking on the role of a convict sent on the first fleet to Australia. Their narrative was to demonstrate the way in which the life of their character changed due to the changes taking place in Britain at the time, and the way these changes impacted their choices and their future. All students are to be commended for the time taken to memorise their speeches and for the courage it took to present their speeches to their peers.
In other Year Four news, we have welcomed Mrs Gath back into our classroom with much excitement, as she volunteers her time to do Christmas craft with us each Wednesday afternoon. With the year end very quickly approaching, this has been a very welcomed break for the students. I am incredibly proud of the hard work and dedication they have shown this year and look forward to three more weeks filled with creativity, learning and laughter. Well done Year Four!
Mrs Jodie Manley
Classroom Awards
Sport News
Upper Years HPE Lessons
Over the past few weeks, students in year 3-6 have worked collaboratively with their peers to design a modified game. Students were required to name their game, make an equipment list and write the rules to share with their class. We have been busy playing these games in our HPE lessons, ensuring we reflect on and improve the games. It was exciting to see all the different games that students have created and watch them teach their peers.
Go For Gold Sports Equipment Grant
Earlier this year, Mrs Lucas applied for an equipment grant from the Queensland government to improve our students participation in sport. I have ordered a variety of equipment for students to use in HPE lessons, within their own classes and in the playground. We are looking forward to using all this equipment in the coming months.
PEN Committee- Soccer Equiptment
Last week the soccer goals and balls that have been donated by the PEN committee arrived. Many students were eager to help put the goals together and have been enjoying using this equipment. Thank you to the Committee for this generous donation!
Swimming Carnival Nominations
On Thursday 23rd November we will be holding our school swimming carnival for students born 2011-2015. Earlier this week the program was sent out to families via the Parent Portal.
Below is a list of the events that will be ran.
Individual Medley (Butterfly, Backstroke, Breaststroke, Freestyle)

Freestyle (8 – 12 years)

Kickboard

Breaststroke (8 – 12 years)

Noodle Races

Backstroke (8 – 12 years)

Butterfly (8 – 12 years)

Freestyle Relays (mixed)
If you notice that your child is in an event that they will find challenging or are not in an event that they should be, please complete the Microsoft Form on the Parent Portal by Monday 20th November and I will alter the program accordingly. We ask that if your child is a confident swimmer and nominates in competitive strokes (Freestyle, Backstroke, Breaststroke, Butterfly) they do not swim in the non-competitive races.
Age champions will be presented to the boy and girl from each age group with the highest point score. Below is an outline of how the points are calculated:
Mrs Katie Horne
From The Arts
This year for our Christmas Celebrations, Sacred Heart School will be presenting:
A Christmas to Remember
Each class will have an item they will perform as we learn about the true meaning of Christmas.
This year students can wear a Christmas Themed outfit with closed in shoes.
Could you please start sourcing these items. If you have any issues, please contact me via email.
cherie.runciman@twb.catholic.edu.au
As part of the Christmas Concert each class will be putting together two Shoeboxes of Love for a child in need in our local area. These shoeboxes will be presented to St. Vincent de Paul at the end of our concert. There are still many children on my list that may not be able to receive a shoebox. If you would like to donate a Shoebox of Love from your family (as well as helping your child's class boxes) please contact me and we can discuss what gender and age of the child, you would like to help.
Sacred Heart Instrumental Concert
We will be showcasing the students who have been involved in the instrumental program this year in an end of year concert. This is not compulsory, but a chance for parents and friends to see the wonderful progress that students have made throughout the year. The Sacred heart Choir will also be performing at this event!
Tuesday 14th November, Sacred Heart Hall
Arrive: 5pm
Concert Starts: 5.30pm
Sacred Heart Dance Club
We are very excited to start a dance club here at Sacred Heart School. This will run Thursday lunchtime commencing Week 3 for students in Year 4, 5 and 6. If you are interested in joining this group and learning a dance for our Christmas Concert, please come along at the beginning of lunch to the music room.
Thursday Lunchtime, Music Room
Bring your lunch!
Ms Cherie Runicman
PEN - President's Report
PEN AGM 6/11/23
Thank you all for putting your faith in me to be the President this year. It has certainly had its challenges and long hours but the transition into a Parent Engagement Network has been hugely successful, full of laughs and brimming with the community spirit Sacred Heart is so renowned for.
It is often easy for us as a school community to lose sight of how short our time in our school actually is, and that the contributions we make today will not only benefit our children this year but in years to come. Our decisions, past and present, have and will continue to lay the foundations for the school community we all value so much. This year we have continued to deliver great contributions and engagement in our children's growth and education at Sacred Heart.
Firstly, I want to say a massive thank you to Ty, Alice, Deb and Scott who have received many an email from me, sometimes late at night, sometimes very early in the morning describing my ideas and those of the wider parenting group and requesting to make things happen for our school. I know, I can be very pushy, just ask my husband! Speaking of my husband, a massive thank you to you! You have supported me, lugged boxes upon boxes of stock around, never once complained that you couldn't see our dining room table or media room, helped me by cooking most of the BBQ's - hence the name now bestowed upon you - Captain Tongs, sacrificed hours of family time to bring joy to our school family but most of all you believed in me. To all of the volunteers who led working parties for our events, and to those who volunteered their time, baking and sales skills, thank you! I, and our school truly appreciate your dedication to plan and help make our events hugely successful. And what an outstanding year we have had!
Our calendar of events from last year including allocating events to certain grades was very successful and this year has proven to be just as successful. This year we have held and achieved quite the list including:
*Meet & Greet
*4 Disco's
*Cross Country Bake Sale
*Mothers Day Stall & Raffle
*Athletics Carnival Bake Sale
*Fathers Day Stall & Raffle
*Sacred Heart Day
*World Teachers Day M/Tea
*Instrumental Music Concert A/Tea
*Prep Up Morning M/Tea
*Christmas Concert
The money raised from these events have allowed us to purchase Decodable Reader kits for Prep - Year 2 to the value of $3800, a new EFTPOS square, freshly painted handball courts, two new sets of soccer goals and balls to the value of $2000, provide morning tea for school officers day and world teachers day, afternoon tea to farewell Betty, $3000 of music room resources, high jump mat trolley, lunch for our grade 5 & 6 students on their make up excursion day, school t-shirts for new staff in 2024, lunch for all the children on Sacred Heart Day, afternoon tea for the instrumental music concert, morning tea for our new prep families in 2024, and the one we all have contributed to over the past few years - finally the purchase of our new top oval playground! Reflecting on this, WOW, I, and all of you should be so proud and honoured to have been a part of such a triumphant year.
While my time as president of the PEN has come to an end, I will continue to be an active member, supporting our new president in moving forward into 2024 and setting new goals for our amazing school community. It has been an absolute privilege to chair our Parent Engagement Group, so once again, my heartfelt thanks for your support during the year.
Mrs Zoe Strugnell
Final Day Arrangements - 2023
To help prepare for the last school day of 2023, please complete the form by clicking on the link below. Thank you for your assistance.
2024 Fee Schedule
The 2024 Tuition Fees and Levies have been set for 2024. A direct debit can be set up now in readiness for the new year. To access this form, click on the link below.
The Uniform Shop
Uniform Shop hours:
Mondays (THIS INCLUDES PUPIL FREE DAYS) & Thursdays 8.00am - 10:30am
If Monday is a PUBLIC holiday, the Uniform Shop will open on the following Tuesday.
PLEASE NOTE: WE CAN NO LONGER ACCEPT DONATIONS OF PRE-LOVED ITEMS
Thank you for your understanding in this regard.
*We accept EFTPOS only - NO CASH OR LAYBY*

SCHOOL BAGS: School Bags are COMPULSORY to the WHOLE SCHOOL.
Do you have the correct bag? These are available from the Uniform Shop for $39.50
SCHOOL PULLOVERS - This is a compulsory uniform item for Years 1 to 6.
SPRAY JACKETS are compulsory for students in Years 1-6 only.
PREP STUDENTS DO NOT REQUIRE SPRAY JACKETS!
FREE BUTTONS available for boys' red shirt, girls' red and white blouse & Prep red polo.
Thank you for your continued support of the school's uniform shop.
Mrs Fay Rhodes
UNIFORM SHOP CONVENOR
* SPECIALS *
HATS: Sizes 53 & 59 available $10.00 Buy a spare!
EXTRA SPECIAL
Polo Sports Shirts : Size 4 $10.00 Sizes 12-16-18-22 $15.00
Sport Shorts: sizes 12-14-16-18-20 $15.00
LIMITED NUMBERS AVAILABLE
EMFIT Bootcamp
Sacred Heart Parish