Term 2 - Week 6 (26th May)
Student Protection Contacts
From The Principal
2024 Enrolments, not just for Prep! – Enrolments for 2024 are open and ongoing. This Friday will see us conducting our second round of Prep interviews. These meetings are not about whether you're 'in' or not. These meetings are about finding out as much information from prospective families so that we can set their children up for success. We are accepting applications for all areas of the school so if you know someone that is looking to start, move to the area or change schools, please encourage them to make contact with us as soon as possible.
Excellence for all – Education has changed dramatically in the last 20 or more years. When most of us were going to school, we were sat in rows and taught at the one level. If you were like me, you were one of those children that things did not come easy to in learning. To this day, I am not sure if this was a result of my own development or the way we were being taught. If you didn't 'get it', you struggled on your own. The hope was that what you didn't get this year, you would pick up next year. This approach left many children feeling unsuccessful, creating a level of disengagement from learning. If you had parents that had this same experience of learning, then the level of hopelessness felt, doubled. Thank goodness our approach to educating your children has changed dramatically.
At an individual level, we adjust for learners where necessary so that they know that they are progressing. Adjustments might be adjustments to the content to be covered, the process or how we're going to learn 'this', or to the product or how the child's learning is be assessed. We call this 'Planning for personalised learning' and many of you would have talked about these adjustments or modifications at your parent and teacher meetings in Term 1. It is through these adjustments that your children feel included in the learning and part of the success in their class.
We aim to live inclusivity in our school in many ways – planning for personalised learning is one of them. At our school one of our core values is 'excellence'. Excellence for your child, is not about A's and B's on a report card. Excellence is progress for every child, every day, no matter where they are in their learning. Your partnership in the learning process with our professional teaching staff at Sacred Heart ensures that this is a reality for all our children.
Disco fun – Thank you to our families for your support of our term 2 disco last night. This wonderful school community event saw well over two thirds of our children coming along to have some fun. Thank you to our staff for their support and to our Parent Engagement Network for their organisation. Thank you to our parent volunteers from 4G and Melissa Armstrong who headed the working party for this event. Finally, thank you to our children for their wonderful behaviour.
God Bless,
Tyronne Maher
From The APRE
Assembly
Thank you to 1J and Mrs Jesshope for leading us in such a thoughtful prayer at our Week 6 Assembly! It was great to see and hear what you have been learning about in Health about the importance of developing a growth mindset. When children strive for our school's Mercy value of excellence, they are encouraged to take risks with their learning; to have a go at spelling a word they don't know how to spell yet or even to ask a question to help them to understand what they are learning.
Congratulations to Audrey, Charlotte, Maeve and Tyler for having their gotcha drawn out at this week's Assembly. Thank you for walking everyday with Jesus. These children received a golden ticket to have lunch with our principal, Mr Maher, at the end of this term.
Compassion in Action
Two of our wonderful families are affected by multiple sclerosis (MS) and Cystic fibrosis (CF). On Wednesday 31st May, we will have a free dress day and the money raised by children donating a gold coin will be donated to MS Australia as well as Cystic Fibrosis Queensland. Children are encouraged to wear either maroon or blue to support their team in one of the greatest rivalries in Australian Sport – the State of Origin series.
Sacred Heart Day
On Friday 16th June we will join as a school community to celebrate the Feast of the Sacred Heart. This day is all about God's love and mercy. That love and mercy is so intense that the symbol of the sacred heart is a human heart encircled with a crown of thorns, crowned with a cross, and radiating flames: this is how much Christ loves us.
We will start the day with a Liturgy led by Fr Roque and our Year 6 students. We will then gather for a morning tea before we then head to Queen's Park for fun activities in our Houses. On returning to school, the students will be provided with lunch and then return to their classes for the afternoon. An invitation will be sent home to parents and families to attend the day!
Mrs Alice Lucas


Prayer of the Week
Retrieved from: 20 Prayers for the Sick to Make Them Stronger in Their Fight (womansday.com)
From the Learning Support Teacher
The NCCD is an annual collection of information about Australian school students with disability. It requires all schools to report the data collected for the NCCD to the Australian Governments each year. The NCCD enables schools, education authorities (such as the Toowoomba Catholic Schools Office) and governments to better understand the needs of students with disability and how they can be best supported at school.
Within the NCCD students are provided supports at 4 levels
Quality Differentiated Teaching Practice where supports are provided within the usual teaching practice for diverse learners.
Supplementary Level where supports are provided for particular activities at particular times throughout the week.
Substantial Level where supports are provided for most activities on most days.
Extensive Level where adjustments are highly individualised and are provided at all times.
The categories for disabilities include
Sensory eg visual and hearing impairment.

Cognitive eg Intellectual Disability, ASD, Speech Language Impairment.

Social Emotional eg anxiety disorders, conduct disorders

Physical eg Cerebral Palsy, Cystic Fibrosis, acquired brain injury.
Recently schools have been involved in moderation processes to ensure the judgements being made regarding categories and levels are consistent across schools and education systems.
Please ask your classroom teacher or contact me if you would like any information about the NCCD or the support being provided to your child.
Mrs Genny McNair
From The Middle Leader/Curriculum Co-ordinator
MATHEMATICS IN PRIMARY SCHOOLS
Families are a child's first educator and this role does not halt on day one of school. Families lay the foundation for future educational success. They make a difference to a child's attitude, motivation to learn and academic achievement through showing their positive attitude towards mathematics and being engaged in mathematics and numeracy at home.
Many people openly claim they don't like maths or they are not good at it, and then unintentionally convey the message that it's ok to not like maths. This can have a detrimental effect on children who hear this message. As a parent, be conscious of displaying positive attitudes towards mathematics, even when it's challenging. Adopting what is referred to as a 'growth mindset' allows children (and parents) to acknowledge that mathematics is challenging, but not impossible. Rather than saying "I can't do it" or "it's too hard", encourage statements such as "I can't do it yet" or "let's work on this together". If you're struggling with the mathematics yourself, and finding it difficult to support your child, there are options such as free online courses like Jo Boaler's YouCubed website (www.youcubed.org), apps such as Khan Academy, or you can seek help from your child's teacher.
Tips for parents:
Understand that mathematics today is about understanding number patterns

Know there is always more than one way to get the right answer

Children are taught mental strategies to figure out problems in their heads, encourage this with asking simple real life mathematical questions ie. How many cars in our street today? How much milk in that bottle?

Practise the times tables – multiplication is one of the building blocks of maths

Don't jump in with the answers – it's ok to work on getting there

Stay positive and talk positively about mathematics

Talk to you child's teacher if you want to know more about what your child is doing in mathematics in their class.
Mrs Charlie Barrett


From the Guidance Counsellor
Inner Coach or Inner Critic?
At Sacred Heart, we use the Zones of Regulation program to help children learn to identify their emotions and to help them use appropriate tools to help them manage their emotions. Ideally, we want all children to feel confident, happy, and engaged in their learning. Sometimes, children may not be feeling happy (blue zone) and or may be feeling anxious (yellow zone), and sometimes this is because of their thinking about themselves as learners. An approach that can sometimes be used is to ask students if they are using an inner coach or an inner critic. The inner coach cheers them on when learning gets difficult, to persist and to keep trying. The inner coach lets them know that its o.k. to make mistakes as mistakes help me learn. The inner critic, on the other hand is when we use negative self-talk, and we use quite fixed mindset that we can't learn a particular subject. Often, when we think negatively about ourselves, and our learning, we are more likely to doubt our ability and give up easily. It's important that as adults, we remind students that the way that they think about themselves as learners, and believing in their own ability is going to help them feel much happier. Sometimes children need reminding that their inner coach will help them learn, and improve their confidence, to ask questions, be curious and be courageous enough to make mistakes.
Mrs Sarah Jackman
Classroom Awards
Class In Focus
Year 6B
In year 6 this semester the seniors have developed a wonderful sense of what it is to be a leader at Sacred Heart. They have all looked to follow our winter uniform policy correctly and are focused on being engaged learners in our classroom.
Our seniors are regularly looking at ways to improve their learning, growing their understanding of what and why they are learning; and showing how to live our school values. This knowledge is ensuring they are ready to learn and to be of service in our school community.
How are we as seniors ensuring we are ready to learn?
Alex A – We make sure we are prepared and ready for the day and we wear the right uniform.
Noah – By focussing on our tasks and not allowing other things to take our attention away.
Clare – By striving for excellence, listening carefully, having our best go and staying on task.
Benedict - By carrying out our school routines and having equipment ready to use in our lessons.
Why do we need to know what it is we are learning?
Riley – To help us be organised in our thinking and our approach to our work.
Jye – So we know what we are doing and if we can be successful.
Ellie – So teachers know that we know what we are doing and where we need to end up.
How do we know if we are successful in our learning?
Ned – When we are successful, we know and also our teacher gives us feedback along the way.
Julianne – When we have completed and checked with the success criteria.
Isaac – If we can check our answers and then check the criteria.
Layla W – We can check with our buddy to see if we have the same answers/layout etc.
How are we as seniors living our Mercy values of Hospitality, Integrity, Compassion and Excellence?
Kodah – By doing the right thing in the playground and setting an example demonstrates integrity and excellence.
Kathryn – By setting examples for the younger students by using welcoming language to demonstrate Compassion and Hospitality.
Kristina – We are making sure that we care we for others, our school environment and greet people showing that we understand Hospitality and Compassion.
Chloe – We are setting an example demonstrating Excellence and Integrity by modelling the correct uniform.
What do you enjoy most about being a senior at Sacred Heart?
Mason Sw – I am enjoying the learning as I feel it's more challenging than grade 5 and I love helping around the school in my senior jobs.
Amber – I love doing the various jobs that seniors do and I enjoy the learning in year 6.
Atem – I enjoy being of service in our community.
Oban – That I get to do senior jobs around the school and can help out younger students.
What is a skill that you mastered here at Sacred Heart that will help you in high school?
Maddie – I think I will take my musical skills to St. Saviour's next year.
Mia – My skills in singing and my piano playing – I hope to continue these next year.
Meila – My ability to speak in front of others and addressing assignment criteria.
Layla O – Working on assignments, understanding the criteria and managing my time.
Justin – Learning to appreciate others for who they are. I am organised and I consider other people before myself.
Mrs Charlie Barrett & Mrs Maddy Parkes-Moller
Sport News
Darling Downs – Basketball
This week, Justin was up in sunny Townsville representing the Darling Downs for Basketball! We wish him and the team all the very best of luck!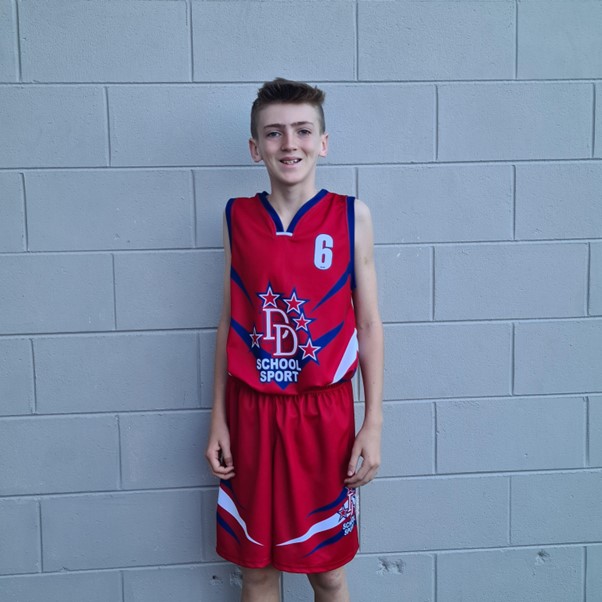 Athletics
We are in the final weeks of preparation for our Athletics Carnival. A letter was emailed home to our parents to let you know all about the Athletics Carnival. For our students who were born in 2014, 2013, 2012 and 2011, there are several events that will be run prior to the Athletics Carnival which is on Friday 9th June. Please see the table below for the details about these events.
Below you will find a guide for the Athletics Carnival.
From The Arts
Eisteddfod News
Congratulations to the 29 members of the Sacred Heart Choir that recently performed at the Toowoomba Eisteddfod on Sunday 7th May. We performed in the B Grade Primary School Choirs against 13 other schools from the Darling Downs. The students sang Sailing Away and Aardvarks on the Ark. Thank you to Mrs Melissa Nelson and Mr Tyronne Maher for attending this event and supporting the students. A big thank you to all the parents who got their child to the event so they could experience the excitement and wonder of performing on the Empire stage.
The TCS Arts Fest 2023 is offering students from each school has the opportunity to be featured collaborately in an array of different activities that focus on the Arts for their primary and secondary schools. Some of these activities/workshops are; Music Theatre Dance and Singing, Visual Arts Workshop, Music Industry Forum for Contemporary Bands, Verse Speaking, Theatresports, Orchestra, Drama Improv and Mass Choirs.
Here at Sacred Heart School, we are taking part in the primary school Music Theatre singing of "The Little Mermaid", the Verse Speaking workshop and performance, the Belief in the Arts Concert where the Sacred Heart Band will be having their debut public performance and the choir will be singing in the Sing for Joy Sacred Concert.
The performances are open for parents and members of our schools as we celebrate the wonderful talents of the students in the Toowoomba diocese. Make sure to save the date!
Wednesday 21st June: Belief in the Arts Concert, 6pm (Empire Theatre)
Thursday 22nd June: Sing for Joy Sacred Concert, 10.30 (St. Patrick's Cathedral)
Information with more details for each event will be put onto the portal very soon, for parents of the students involved.
Lunchtime Concert
We are holding a small lunchtime concert for the students involved in the instrumental program and the Sacred Heart Band. This concert will be held in the school hall and is open to parents and friends.
Wednesday 7th June: 1 - 1.45pm
Students participating are: Amber, Madeleine, Reagan, Gabriella, Ella C, Ebony, Kohen, Brydee, Lucy L, Tia, Kimberley, Liam F, Liam B and Alex A.
Congratulations on the Dance and Drama showcase!
Last week we held our first Dance and Drama Showcase on Tuesday 16th May and Thursday 18th May. We had a wonderful show of support from parents, who watched their child perform the dance and drama item that we have been working on during semester 1. The students had a wonderful time and seemed to really enjoy the experience and opportunity to share their learning with their peers and parents. I am hoping to continue this format again next year.
WELL DONE SACRED HEART!!
Ms Cherie Runciman
Library News
Year 6 Winter Meal Deal Fundraiser
Our next MEAL DEAL organised by our Year 6 class is on Wednesday 31st May.
This consists of a hot milo/chocolate (with marshmallow) and noodles for $4 at lunch time.
Gluten free options for both items are available.
ALL ORDERS NEED TO BE COMPLETED BY 9.00am ON TUESDAY 30th MAY 2023.
Funds raised assist with the costs of the Grad Mag publication and end of year decorations for Graduation.
Please order on Flexischools (link below) as per previous meal deals.
The Uniform Shop
Thank you for your continued support of the school's uniform shop.
PLEASE NOTE: WE CAN NO LONGER ACCEPT DONATIONS OF PRE-LOVED ITEMS
Thank you for your understanding in this regard.
*We accept EFTPOS only - NO CASH OR LAYBY*


Normal Uniform Shop hours:


Mondays & Thursdays 8.00am - 10:30am

.




If Monday is a holiday, the Uniform Shop will open on a Tuesday.



SCHOOL BAGS: School Bags are

COMPULSORY

to the

WHOLE SCHOOL

.


Do you have the correct bag?

Available from the Uniform Shop for $39.50


SCHOOL PULLOVERS - This is a compulsory uniform item for Years 1 to 6.
SPRAY JACKETS are compulsory for students in Years 1-6 only.
PREP STUDENTS DO NOT REQUIRE SPRAY JACKETS!
FREE BUTTONS available for boys' red shirt, girls' red and white blouse & Prep red polo.
Ms Betty Davison
UNIFORM SHOP CONVENOR
* SPECIALS *
HATS: Buy a spare!
Sizes 52-53-57-59 $15.00
EXTRA SPECIAL
Polo Sports Shirts :
Size 4 only $10.00 each
Sizes 10-12-14-16-18-S-M $15.00 each
Sport Shorts:
sizes 12-14-16-18 $15.00 each
LIMITED NUMBERS AVAILABLE
Transport Assistance (Student Travel Rebates)
Tennis Lessons
Community Notices
Sacred Heart Parish
Community Notices