Term 3 - Week 4 (5th August)
Student Protection Contacts
From The Principal
From Involvement to Engagement – There is nothing more powerful for a child's learning than a parent who is genuinely interested and invested in their progress. We call this 'parent engagement' in learning. Engaged parents partner positively with teachers to know their child's goals and know how they can support their progress. These same parents know how children today are being supported in schools. Involvement is different, and we often confuse this with engagement.
Anyone can be involved in a school and these people are important in the day-to-day success of our school. They are the people that support the weekend sausage sizzle, our working bees or perhaps they help to organise an event like a welcome night. This includes those volunteers that come into our school occasionally to read with our children. The distinguishing difference between involvement and engagement, is that anyone can be involved in a school, but only a parent, when being engaged in their learning, can have the impact on the progress of their child. When a child knows that you care and knows that you are aware of what they need, they come to understand how important learning is.
The way teachers teach has changed dramatically in the last 20 years. When we were at school, the teacher taught the curriculum. Teachers today, teach the child and meet them where they are in their individual journeys. Teachers do this most effectively when they partner with the people that know them best; you.
Our Parents and Friends Associations (or 'P&F') and School Boards have had a proud history of involvement and support in our schools. Countless families have given their time and energy to support fundraising efforts, community building and have served as advisors to the running of a school. While the support of our families is still strong, our school communities have changed dramatically.
Where once parents had ample time to offer, the time that can be given to fundraising efforts, has become limited. Where once School Boards designed policies, these same policies have, by and large, become centrally governed in response to the growing complexity of schools and the communities that they serve. At a time where we are educating our children for jobs that do not yet exist, we need to have more knowledge of how learners learn and how schools respond to this challenge. Many schools have recognised this and have shifted the focus of families from that of involvement to that of engagement in learning.
On 29th August, a special meeting will be held to vote on a motion to combine our schools' Board and Parents and Friends Association to form the 'Sacred Heart Parent Engagement Network'. The focus of the Parent Engagement Network will be on supporting the learning of all children and the role of the family in this, while coordinating events that promote the building of community and connection. All families are welcome to attend this meeting whereby the benefits of moving to this new model will be presented before the motion is voted on.
In the meantime, we encourage all families to become more engaged in the learning of their children by connecting with our teachers. Simply asking your child's teacher, "How is my child doing?", is the first step towards becoming the engaged parent that your child needs to enhance their progress. We encourage this engagement at Sacred Heart and look forward to more of these partnerships for the benefit of our children.
God bless,
Mr Tyronne Maher
From The APRE
Hospitality in Action
Mrs Angela Tevelein was discussing with the students of 1/2T about the need to make a new School Officer feel welcome in their classroom. They were brainstorming ways to make the new person feel welcome when a Year 1 student, William Marriage, proudly told the class that this was what we call Hospitality. Thank you to 1/2T and Mrs Tevelein for your efforts to live out the Mercy value of Hospitality!
Catholic Education Week
The Sacred Heart community had a great time celebrating Catholic Education Week (CEW) last week!
Monday: Thank you to our Year 6s for kicking off our celebrations by leading the whole school in a CEW Liturgy.
Tuesday: The CEW Breakfast on Tuesday was a huge success. I am honestly humbled by the strong sense of community here at Sacred Heart. Thank you to the parents, grandparents and students who offered to help set up, serve the breakfast, as well as jump in to help the barista from Second Shot who was inundated with customers! It was great to be able to welcome so many parents and carers into our classrooms for the morning. I know the students appreciated being able to share their learning with their loved ones who were able to make it! Our school captains, Indiannah Gardner and Tyce Fraser, accompanied Mr Maher and myself at the CEW Launch Mass at St Patrick's Cathedral.
Thursday: Our upper years students had a great day at the Toowoomba Catholic Schools Netball and Touch Football Carnival. Thank you again to Mrs Weber for your efforts to prepare the girls for the Netball carnival!
Friday: Our students enjoyed a pupil free day and the staff gathered here at school for an online Bishop's Inservice Day. The keynote speaker was Br Damien Price and what an inspirational speaker he is! He broke open the 'Encounter Cycle' and opened our hearts to be truly present in each moment. Congratulations again to Mrs Jesshope on your CEW Excellence Award as well as Mrs Robinson on your 25 years' Service Award! What a wonderful achievement for both of you.
Warmest regards
Mrs Alice Lucas
APRE
Prayer of the Week
LET YOU LIGHT SHINE
Our deepest fear is not that we are inadequate,
but that we are powerful beyond measure.
It is our light, not our darkness, that most frightens us
We ask ourselves, 'Who am I to be brilliant,
gorgeous, talented and fabulous?'
Actually, who are you not to be?
You are a child of God.
Your playing small doesn't serve the world.
There's nothing enlightened about shrinking
so that other people won't feel insecure around you.
We are born to make manifest the Glory of God that is within us.
It's not just in some of us; it's in everyone.
And as we let our own light shine,
we unconsciously give other people permission to do the same.
As we are liberated from our own fear,
our presence automatically liberates others.
AMEN
(From the inaugural speech of Nelson Mandela).
Retrieved from: Prayers – Sacred Heart Parish Tatura
Class Awards
From Year 1/2T
The students in Year 1/2T having been using The Learning Pit in their Math lessons. The Learning Pit offers encouragement during times of struggles, explains how frustration and confusion are a normal part of the learning process; and illustrates the steps that they can take to move from surface level knowledge to deep understanding.
Another crucial element of The Learning Pit is reflecting upon the steps taken to achieve success in their learning journey. Once the students understand the steps they took, they can then apply their thinking to other learning challenges.
The students would like to share their thoughts about The Learning Pit:
Vincent - My favourite part about The Learning Pit is the 'brain'. It allows me to think with my mind. My second favourite is the 'bits and bobs' because I can use counters, my toolbox, blocks, shapes, drawings and other toys in the classroom to help me understand.
Elijah - When I didn't know what to do, I used my 5Bs to help me when I was stuck in the pit.
Willow - I like to use my 5Bs when I am stuck in the pit. I like to use Bits and Bobs when I get stuck. Bits and Bobs is where I can use other resources in the room to help me. The toolbox helps me heaps.
Slaina - Making mistakes is Ok because we can fix it.
Archie - I like it when we say, "Let's give this challenge a go!" It makes me feel confident.
Ava - I find Math hard but when I get stuck in the Pit my teachers and friends help me to understand.
Frankie - I like how The Learning Pit help us learn each week. It gives me the confidence to learn new things. We can all help each other when we are stuck in the pit.
Paige - The Learning Pit helps me because when I get stuck, I can work with a buddy.
Amaraina - I get lots of practice to get out of The Learning Pit.
Lane - It challenges us when we have tricky problems to solve.
Robert - I like to use my 5Bs when I am stuck in The Learning Pit. My favourite one is 'Back - go back and try again'.
Georgia - The Learning Pit lets me understand the problem and my teachers and friends help me to get out of the pit.
Chelsea - If I am stuck in the pit with a problem, my friends can help me.
Lucy - The Learning Pit helps me succeed and makes the learning easier.
Harper - I get to move through the pit but when I am stuck the teachers help me.
Kay - I like it when I am in The Learning Pit because it helps me to learn new things.
Ebony - It helps me when I am stuck because I can use Bits and Bobs.
Quinn - I like being in the pit because I can use my 'brain'. If it is a tricky problem, I need to think how am I going to solve the problem?
William M - When I am in the pit that is when "Great Learning Happens". When I am stuck on some of the steps the teachers know I need help.
Tucker - The Learning Pit challenges me when I am stuck. When I am stuck everyone can help me understand the problem.
Bul - The Learning Pit motivates me when I am struggling with my math. It really helps me!
Phoebe - When I am stuck in the pit, my friends can help me.
Hudson - The Learning Pit helps me when I am struggling. I can use my brain better and it challenges me to think.
William R - I like The Learning Pit because it helps me when I was learning about Data.
Nate - I like to use The Learning Pit because when I am stuck, I can use my 5Bs before my teacher can help me.
Rubin - I like how it helps me learn and it helps me to learn how to grow as a learner and become better with my work.
The Learning Pit is a celebrated way to help develop challenge, resilience and a Growth Mindset. Click the link below: This animation helps to explain how students use The Learning Pit in the classroom
The Learning Pit helps students to improve their mindset. Instead of thinking 'this is too hard', we are helping them to think "I'll get there, but it may take a bit of effort'.
The next time you become challenged and frustrated putting the flat pac Ikea furniture together, remember the importance of getting in The Learning Pit. Visualise the emotion of success and pride once that piece of furniture is constructed!
Math and Digital Technology Unit:
This term we are using Bee Bots where we can give commands for our Bee Bots to move forward, backwards, left and right. The commands help the students develop an understanding of sequencing, computational thinking and the mathematical concepts of coordinates, distance, and location.

Mrs Angela Tevelein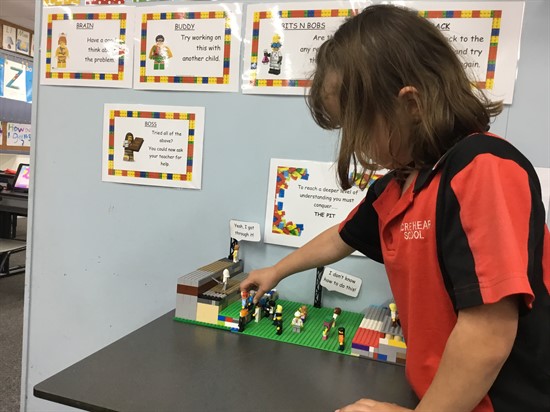 Prev
Showing images
1 - 8
of 30
Next
From Year 2/3A
What a great week we have had this week. We loved meeting and listening to Cori Brooke. What an inspirational author. It was so good to listen to her read some of her favourite books and tell us what inspired her to write them.
This week we have been learning to spell words with the 'er' sound that are teamed up with 'er' and 'ear' letters.
We have been measuring things in our classroom with informal measurements and have learnt this way of measuring is unreliable because the things we have used – dinosaur prints, MAB blocks, paddle pop sticks and so forth are all different sizes hence making the overall measurement different.
Our visual art piece is Autumn Leaves. We have had to use our cutting skills to complete this piece.
Friendly reminder: Library books are to be returned on Thursday. Homework is due back on Fridays ready for marking.
Have a great week. God bless.
Mrs Jacque Armstrong
From Year 3/4G
It was great to see so many parents at school for our sausage sizzle breakfast an in our classroom. Parents who attended were able to view firsthand a morning presentation and had a look around our classroom with explanations from their children.
Morning Presentations
The students have been doing a great job with their morning presentations (as well as keeping up with learning their spelling for the week). Many students have learnt new skills with technology in the process of getting them ready and already many are saying they feel more confident speaking in front of the class.
Students have chosen a variety of ways to present including PowerPoint, posters, and Bookcreator. I'm looking forward to listening to the rest of the presentations over the next few weeks.
We no longer present birthday certificates at assembly, but they are still presented in class, and these are our most recent.
NAIDOC Week
Although NAIDOC week was celebrated during our recent holiday, at school we continued this by creating some Indigenous art which was then turned into rain makers. We do not need them at the moment, but we will keep them ready for summer.
So far this term in HaSS we have been focusing on understanding the difference between weather and climate and are continuing to explore the world's climate zones.
In just two weeks' time Book Week will be here and I have already heard students discussing what their costumes will be. We have been working hard to illicit as much knowledge as we can from the two Reader's Cup books (Heironymous Betts and His Unusual Pets and Charlie Cooks Favourite Book) before the competition.
Recently all the students were measured as a class and we worked out how we could show this information on a graph that could be added to as the year goes on. Check out what we produced.
As we get further into the term discussions in Religion will be about conscience and morals. We will be using fables and parables to help the students understand the concepts.
Of course, one of the most eagerly awaited upcoming events is Father's Day and students have been checking with me what we will be making. We will create something special, but I will not share that here.
Have a wonderful week.
Mrs Rhonda Gath and Mrs Jodie Manley
From Year 6B
This week our seniors have been focused on reviewing concepts to date:
In Mathematics we have been reviewing the calculation of the area of compound shapes and also the multiplication of 2 and 3 digit decimal numbers.
In English, we explored the writing and illustrating style of the author Mark Wilson. He talked with our class on Thursday as a part of our school author visits in preparation for Book Week in Week 6. We also looked at student writing goals in our narrative writing and marked ourselves against the NAPLAN criteria to inform us of areas for improvement.
In Science we have been looking at chemical and physical changes and conducted a couple of experiments that resulted in the creation of our own fizz wizz and fluffy slime. Students were tasked with writing their hypothesis based on only knowing the materials that were going to be used. The taste test of the ingredients was interesting; particularly when they tried the baking powder and citric acid.
Enjoy the fortnight ahead.
Mrs Charlie Barrett & Mrs Mallory Anderson
Prev
Showing images
1 - 8
of 9
Next
From The Arts
CHOIR
If your child loves to sing, we would love to see them at choir!!
We rehearse Tuesday 2.55-3.30pm in the music room.
If you have any questions, please contact me at cherie.runciman@twb.catholic.edu.au
INSTRUMENTAL LESSONS WITH MISS JOY
If your child is interested in learning an instrument, please contact Ms Runciman. We will have some spots available with Miss Joy in Term 3. Get in early to make sure you do not miss out.
DANCE AND DRAMA
All classes are currently exploring different aspects of Drama and Dance during their "Arts" lessons. I hope they are coming home telling you about the wonderful creations they are making in class. There will be short plays performed at the end of the term showcasing Year 5 and 6. They will be able to share their talents with the Prep classes.
2022 Book Week and Book Fair
BOOK WEEK: 15th – 19th August
Our Book Week activities will be held this year in Week 6 (Aug 15th – 19th)
The theme for Book Week this year is "Dreaming with eyes open"
There will be the usual favourites:
Book Week Dress Up Parade – Thursday 18th August at 8:30am in the school hall. Students are invited to come dressed as their favourite book character or dress up around this years' theme.
Short Listed Titles: Reading of shortlisted titles & follow up activities.
Reader's Cup Competition

: Wednesday 17th August until F

riday 19th

August
Book Fair opening times:
* Monday 15th August: CLOSED
* Tuesday 16th and Wednesday 17th August - 8:00am to 8:30am, 3:00pm to 3:30pm
* Thursday 18th August – 8:00am to 8:30am, 9:30 – 10:00am (Parents only), 3:00pm to 3:30pm
* Friday 19th August - 8.00am to 8.30am ONLY
We will be holding our annual Book Warehouse Book Fair during Book Week. There will be a large variety of books for sale at prices to suit everyone. This is a wonderful opportunity to buy some great books and help the library gain new resources as the school receives 30% of the total sales as our Commission.
We are looking for volunteers to assist with the running of the book fair. Please contact the library if you can help during Book Fair Opening times.
Mrs Jan Watkins and Mrs Becc Wheeler
School Fees
School Fees for Term 3 have now been billed to family accounts and fall due on Friday 19th August 2022. Statements have been emailed to all families. If you would like more details regarding your account, please contact the office. Methods of payment are direct debit or bank transfer. Our bank details are on the statement.
Thank you for your support.
2023 Enrolment Intention
To help us with the 2023 class structure and enrolment numbers, it would be appreciated if you would please complete the '2023 Enrolment Intention' Form if your child/ren are NOT returning in 2023. Please click on the link below to complete. We ask that this form be completed by next Friday 12th August 2022. Thank you for your attention into this matter.
Highlights from the Sacred Heart P&F Meeting
The P&F met on Monday 1st August for an Ordinary Meeting. Participants attended in person and online.
The following are some of the highlights:
The P&F are working on preparing for the Term Disco. As always, if you can volunteer, it would be greatly appreciated.

The P&F have a Facebook Messenger group where school activities are discussed. If you would like to be added to the group, please contact Elizabeth (Liz) Lucht. Everyone is welcome.

A big thank you to the Year 3 parents for the many goodies prepared for the Athletics Carnival bake sale and for volunteering on the day. The bake sale was a great success.

The P&F is moving ahead with the Buddy Benches. An artistic parent of a Year 1 child has kindly offered to decorate some existing seats. Buddy Benches are seats where students can go when they are not coping or need some help without having to directly ask for it. Sitting on the Buddy Bench is a signal that they need a friend or help from an adult.

The next P&F meeting will be on Monday, 5th September. All parents and carers are welcome to attend.


The Uniform Shop
Thank you for your continued support of the school's uniform shop.


Normal Uniform Shop hours:


Mondays & Thursdays 8.00am - 10:30am

.


If Monday is a holiday, the Uniform Shop will open on a Tuesday.
Track pants (with logo) are now available.
Pencil cases (with logo) are at a special price of $5.00 each.
Red anklet socks (sizes 2-8 & 8-11) are at a special price of $8.00
SCHOOL BAGS: School Bags are COMPULSORY to the whole school. Do you have the correct bag?These are available from the Uniform Shop for $39.50 (with emblem).
SCHOOL PULLOVERS - This is a compulsory uniform item for Years 1 to 6.
SPRAY JACKETS are compulsory for students in Years 1-6 only.
PREP STUDENTS DO NOT REQUIRE SPRAY JACKETS!
FREE BUTTONS available for Boys' red shirt, girls' red and white blouse & Prep red polo.
The uniform shop carries donated pre-loved items (including items for Prep).
Thank you for all the donations to the uniform shop these are greatly appreciated. Please continue to support the uniform shop with donations. These can be left at the office.
*We accept Cash, EFTPOS or Layby* Please note: this is at the Uniform Shop ONLY
Ms Betty Davison
CONVENOR
Mercy Girl for a Morning
School Crossing Safety
National Tree Day
Sacred Heart Parish